Using Social Media for the Growth of your Gym
Posted on March 25, 2019 in Blogging
Does your gym need a little boost? Here are a few ways you can use social media to boost your gym and bring your fitness business back on the radar.
There are millions of people using Facebook right now as you are reading this not to mention Instagram and Twitter has millions of users online too. Social media is an easy yet powerful way to engage your audience and reach potential customers. Hence it becomes important to invest one's time and efforts into the social media platform for the upkeep of a gym.
Fitness junkies are always on social media sharing their fitness challenges and the goals they have achieved that day. Use social media to your advantage and show the world your fitness business and how you stand out from the rest.
Momentum
You need to let people know you are on social media. This can be done by letterbox campaign or advertisements like newspapers. It is essential to add a social media button to your website and add a call to action on your flyers and brochures. A simple call to action example is by putting your Facebook, Twitter or Instagram name on the printed collateral with some daily motivation and even a discount for signing up.
Promoting your business page
You could have 1000 followers on your facebook page, but your posts may only be reaching 20% of them,  its time to promote your posts and the discount or free item you are advertising. It doesn't cost much to advertise on social media, and there is no long-term contract that you have to stick by.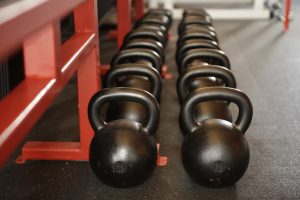 Sharing content that matters
Reach your potential clients by writing problems that are common with body weight, fitness training and dieting and then convert them into articles that you write and advertise on your page. Have some interesting tips and facts included and even some testimonials from clients that are happy with the service you provide.
Put your brand on everything
Be sure to place your logo on your articles, videos and posts so when someone shares it people know how to get to the original source.
Continue to ask what you can help them with
Even though you are using social media, you need to go by the rules of customer service. Be polite ask how someone is before engaging in conversation about your services. Even if someone is just liking your posts or leaving comments to engage with them and ask what problems they would love to overcome and explain how you can help.
Content needs to be personal
You will capture the attention of potential clients by creating content that is personal. If someone is commenting on healthy recipes that you post send them a personal message with another recipe that you didn't post for everyone. If someone mentions they lost weight or got through their gym session with flying colours give them a shout out, congratulate them.
Avoid trying to sell
Social media has filled with selling, but it isn't just about that. If you come across as a seller to gain you will lose engagement from potential clients and ruin your brand. Post information to motivate the audience and explain how their problems can be solved without using words like "use my product' "if you buy my product'. Meticulous detailing needs to be put into focusing on a promoting process after which the sales management process simply follows.
You need to take care when you are posting on social media and take the time to re-read what you have created. Does it sound boring? Does it sound like you are desperate to sell your gym memberships or products? Be active as much as you can on your site. If people see a few posts them nothing for a few weeks, they will assume your business isn't going so good or you are not a dedicated business owner who is ready to help clients.